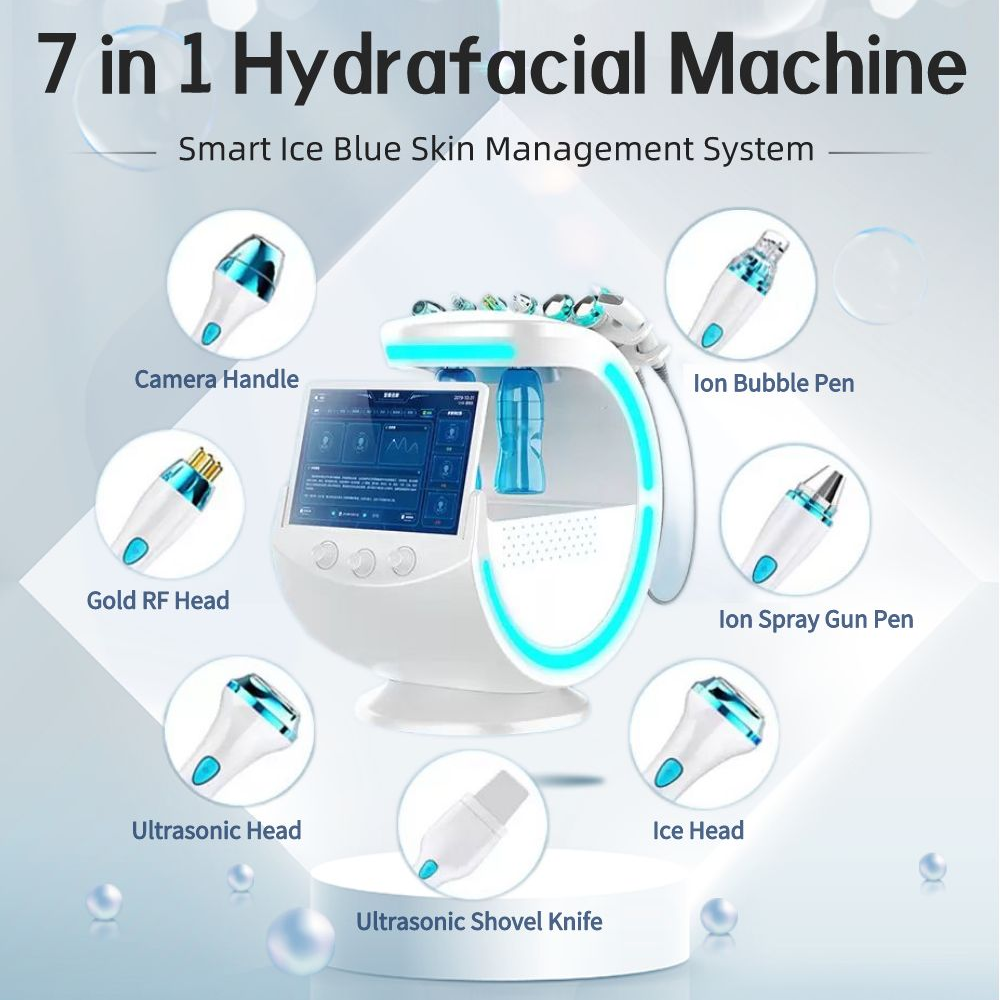 The intelligent ice blue skin management system (hereinafter referred to as "this product ") is to collect facial skin detail images through 10 million pixel high-definition micro-range camera
combined with three-spectral imaging technology, through intelligent diagnosis and analysis of
artificial intelligence core engine ,8 dimension fine items to detect skin problems, and according
to the diagnosis results of private customized beauty care program and intelligent
recommendation of professional skin care products; Combined with the techniques of" ultrasonic
shovel knife "," bubble "," nano atomization "," ultrasonic wave "," gold radio frequency "," ice
repair "and so on, the six high configuration beauty functions comprehensively manage the skin, combine the results of AI skin diagnosis with skin care products and other skin care items, and develop a multi-functional integrated equipment for skin detection and management.
1.2 Product characteristics
1) multi-function integration: this product sets skin detection, custom beauty program, product
push; basic beauty care, cuticle cuticle cleaning, deep cleaning, deep hydration and nourishing,
anti-aging maintenance, sedation and repair functions in one one machine multi-energy, market
demand is large.
High
2) comfort: the handle appearance design conforms to the human body engineering
mechanics principle, the material skin friendly feeling is strong, the body feeling is comfortable.
3) function principle: the core principle of this product is 3 spectrum sampling, AI intelligent skin
measurement, push of intelligent products, customization of AI beauty scheme; six nursing
functions :" ultrasonic shovel knife "," atmospheric bubble "," nano atomization "," ultrasonic ","
gold radio frequency "," ice repair ".
Simple
4) operation: AI intelligent analysis, convenient operation, easy to use, no surgery, no
broken skin, strong safety.
1.3 Technical parameters
Do not operate on damaged skin, skin allergy acute phase, skin wound customers do not
recommend operation, will cause skin tingling.
Infectious skin problems can not be done, easy to increase the skin irritation.
Patients with heart disease, epilepsy, tumor do not do small bubbles, there are potential hazards.
After filling, plastic minimally invasive surgery can not be done, may affect the filling.
People with metal stents in their bodies can not do it, which may affect the therapeutic effect.
For the safety of mother and baby, pregnant women are not recommended to do.
People with hormone dermatitis do it carefully to avoid irritation.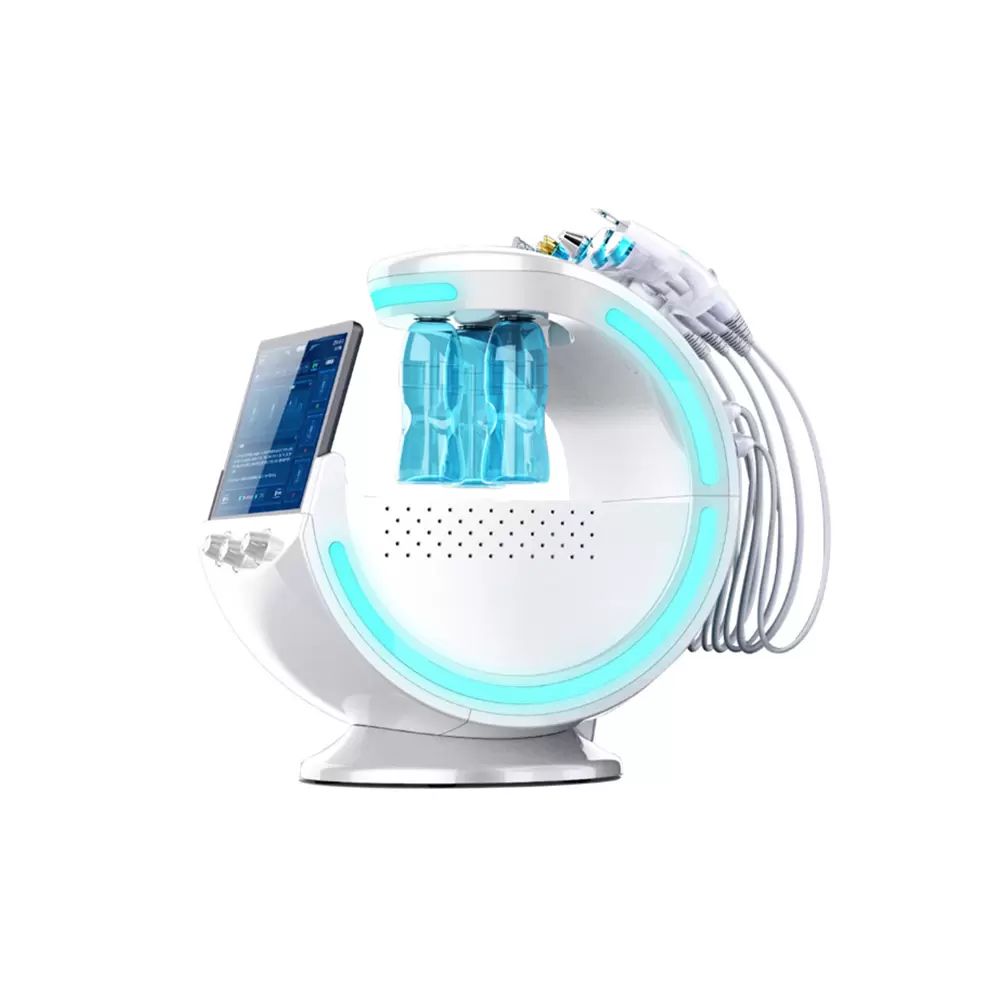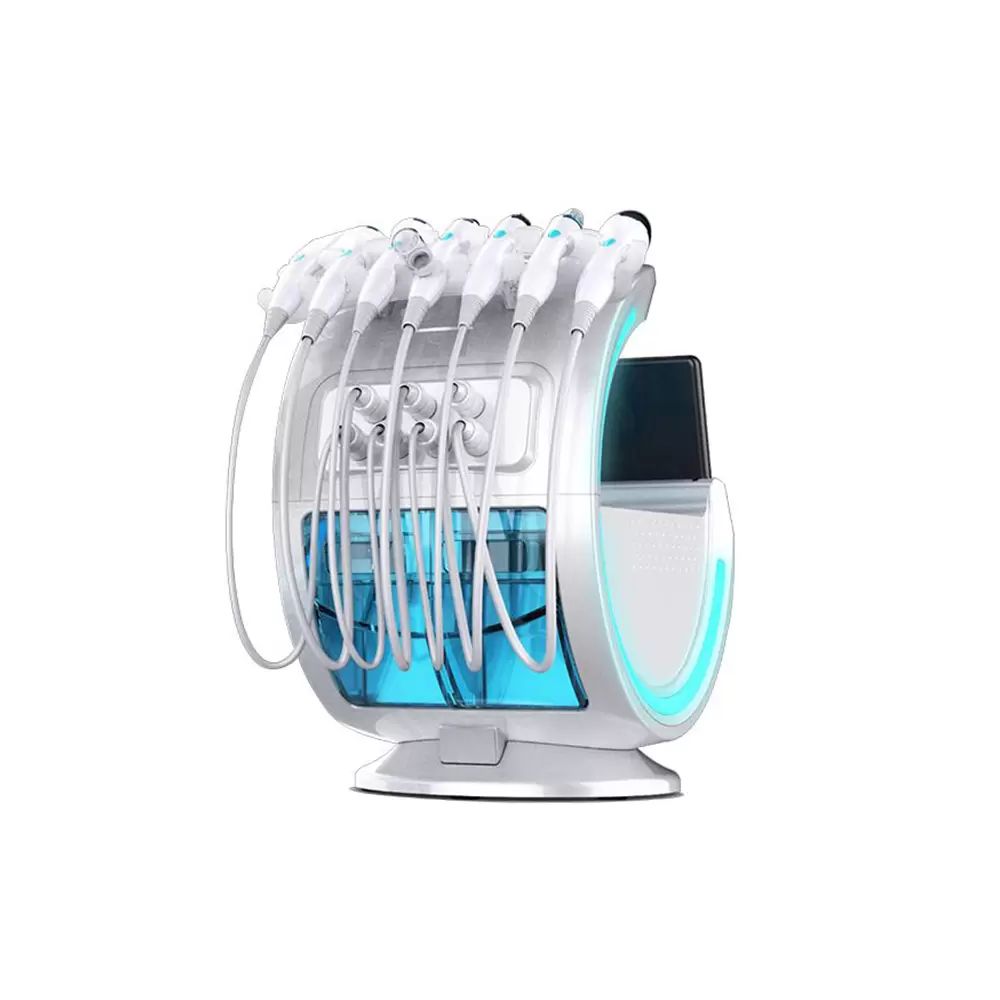 Chapter II Installation of Instruments
2.1 Introduction of annexes
1) Smart Ice Blue Host (1)
3) hand-held connectors (1 set of 6),
x1 of ultramicro small bubble
Hand
x1 of Ultrasonic Scraper
x1 of nano-atomization spray hand
x1 of Ultrasonic Import Handpiece
5)1 solution bottle ABC( each)
10) Instructions for Use (including warranty card)(1 copy)
If it is found that the accessories are not complete, please contact the supplier or company
within 24 hours after receiving the goods.