4D HIFU machine with 8 cartridges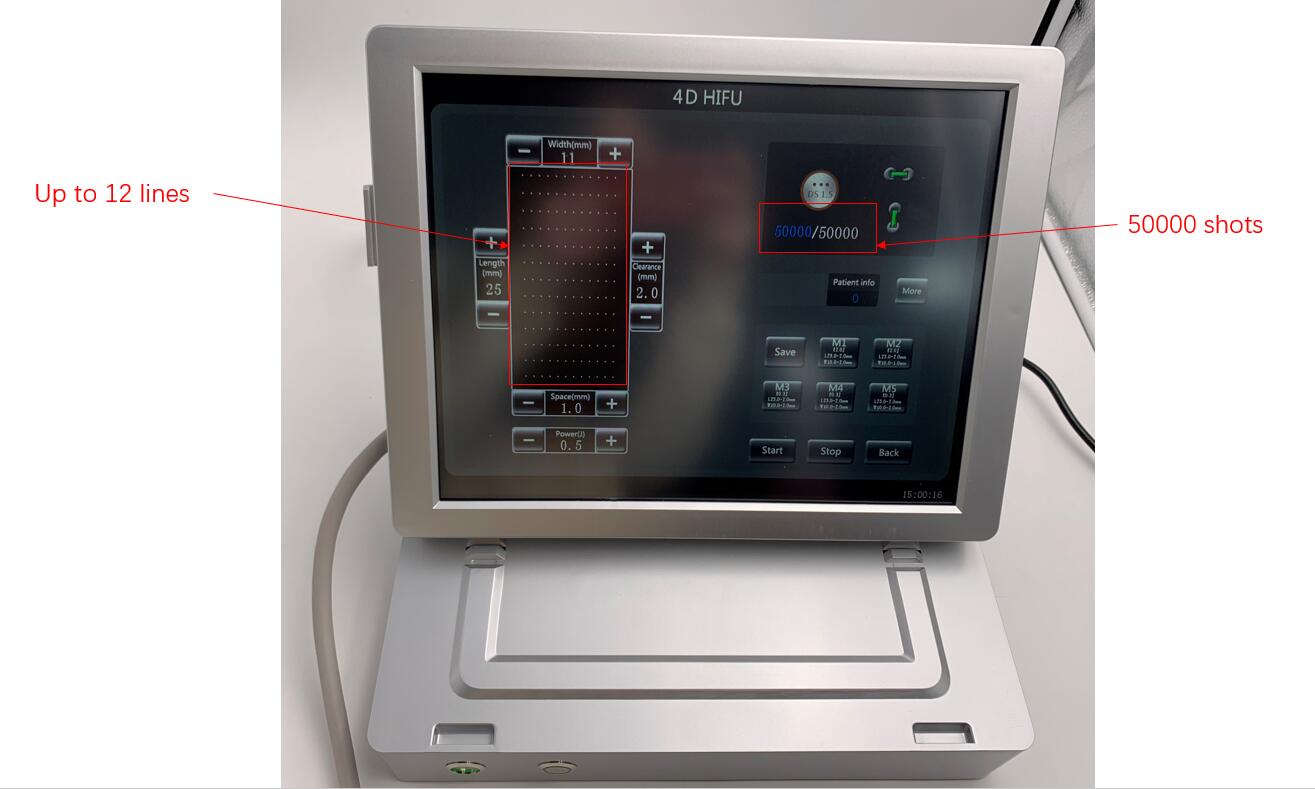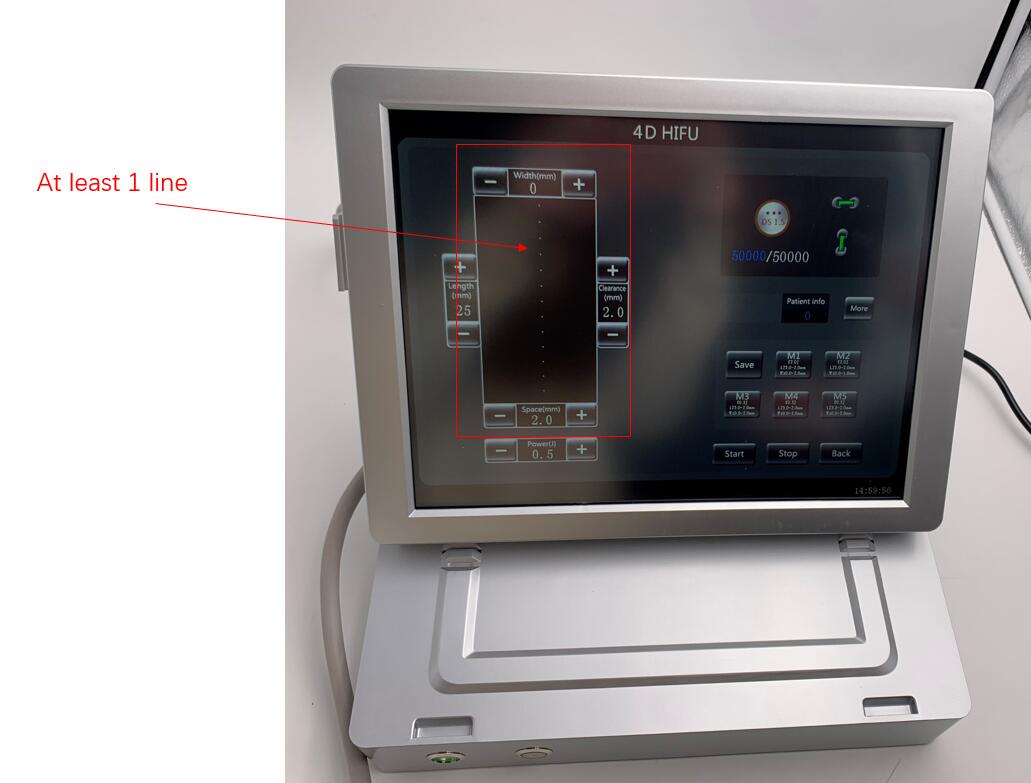 Treatment
1. Remove wrinkles on around forehead, eyes, mouth, etc.
2. Lifting and tightening both cheeks skin.
3. Improving skin elasticity and shaping contour.
4. Improving jaw line, reducing "marionette lines.
5. Tightening the skin tissue on forehead, lifting the eyebrows lines.
6. Improving skin complexion, making the skin delicate and bright.
7. Match with injecting beauty like Hyaluronic acid, collagen, to resolve more aging problem.
8. Removing neck wrinkles, protecting neck aging.
9. Body slimming and Body Shaping.



Basic parameters
technology
HIFU, High Intensity Focused Ultrasound
working mode
pulse digital output mode
Treatment cartridge
8 cartridges, face: 1.5mm, 3.0mm, 4.5mm; body: 6.0mm, 8.0mm, 10mm, 13mm, 16mm
cartridge lifespan
20,000 shots per each cartridge
lines
1-12 lines adjustable
Power
200W
adjustable dot distance
1-10mm
shot length
5.0-25mm adjustable
energy type
4MHz
energy output
0.1-2J/cm2
maximum power
120VA
working temperature
0 - 55°C
Material
durable ABS
screen sizes
15 inches touch screen
voltage
110V and 220V optional, 50/60Hz
functions
face lifting, body shaping, wrinkle removal,skin rejuvenation, skin tightening, weight loss
main machine sizes
44cm*30cm*38cm
main machine net weight
10kg
carton case for portable HIFU 3D machine
1pc 45cm*54cm*28cm
carton case gross weight
13kg
remark
standard cartridge: 3.0mm 4.5mm
selective buy: 1.5mm 6.0mm 8.0mm 10mm 13mm 16mm
3.0mm is for the dermis layer
4.5mm is for the SMAS layer
6.0mm/8.0mm/10mm13mm/16mm for body fat layer
Feature
1.Adjustable Parameters:The distance between points and points, The distance between rows and rows, The energy of each point,The length of each line, 20,000
shots, which allows machine owners to reduce costs and gain more advantages.
2.From 1 line to 11lines:Larger area, round and neat.
3.Increased to 8 depth Cartridges: Eye&face:1.5mm, 3.0mm, 4.5mm; body: 6mm, 8mm, 10mm, 13mm, 16mm.Use for Face Lift/Wrinkle removal/Skin
Tightening/Body Slimming.
4. MAX treatment area for one shoot (face & neck& body): length 25mm * width 10mm * depth 1.5mm & 3.0mm & 4.5mm & 6.0mm & 8.0mm & 10mm & 13mm & 16mm;
User can adjust parameters as your demand. The width of one shoot is bigger than others, so it will not only save much treatment time with the same area ,
but also make energy shooting on the skin more uniformly and lead to better result.
5. It adopts the most advanced high technology, accurately working on various skin depths according to the skin condition equipped with eight cartridges. The
energy passes the surface of the skin and there is no injury absolutely. Meanwhile, each cartridge works on the skin conforms to the setting depth, ensures the
customer to feel non-pain and comfortable.
6. It has heat effect on dermal collagen and collagen fibers as well as thermal stimulus on fat layer and SMAS, which result is better than the Thermage.
7. It is easy and convenient for operation, and no consumable items are required, which greatly saves the treatment cost.
8. Tightening and sculpting effect is obvious after one treatment. It can be maintained at least 12 to 24 months after the first treatment and realize negative growth
of skin age once a year.
9. The normal life and work will not be influenced and you make up right after the treatment.
Package
Aluminium box
45cm*54cm*28cm 0.07cbm 13kg

Q&A
1. What can you do when something happen to your machine?
First, contact us by whatsapp, skype or email.
Just need a photo o a video, we could know what the problem is.
Because you already had necessary accessory in your hand, which we send with the machine, with the video and manual, you can solve it in a few minutes.
2. Does it work for all skin?
Yes .
Suggset parameter
Skin Type
Width
Clearance
Power
Length
Treatment
Good skin
0-10
1.0-5.0
0.25-0.5
0-10
1 time per course
Sensitive skin
0-10
1.0-5.0
0.25-0.35
0-15
1 time per month
3 times per course
3. What is the usage of every cartridges?
| | |
| --- | --- |
| 1.5mm | for neck 0.6J, temple(fishtail lines):0.5J, forehead: 0.5J |
| 3.0mm | for neck: 1.0J, the lower jaw: 1.0J, jaw bones: 0.8J, cheeks: 1.0J, temple: 0.7J, forehead: 0.6J |
| 4.5mm | for neck: 0.8J, the lower jaw: 1.0J, jaw bones: 0.7J ,cheeks: 1.0J, temple: 0.7J, forehead: 0.4J |
| 6.0mm | for back: 0.8J, accessory breast: 0.6J, stomach: 1.0 J |
| 8.0mm | for accessory breast: 0.7J , back: 0.8 J, stomach: 1.0 J |
| 10.0mm | for back: 0.8J , thigh: 1.0J, stomach: 1.2J |
| 13.0mm | for stomach: 1.0 J, thigh: 1.0J |
| 16.0mm | for stomach: 0.8J, thigh: 1.0J |
4. As an engineer, can I adjust the energy as I like?
Yes. We have video for you to modify your machine.
5. 3D HIFU user manual
We will provide it after you purchasing the machine.